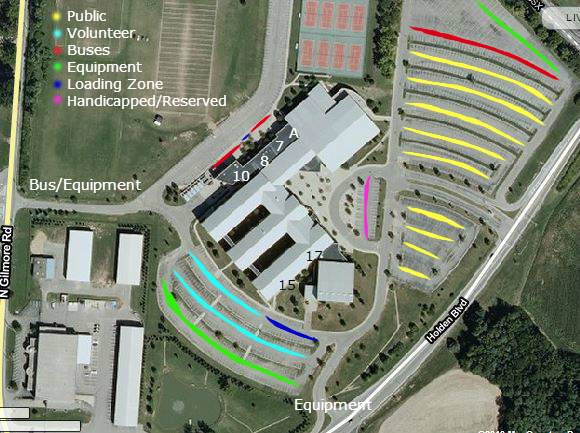 Check in and Parking for all Choirs
Buses. Buses will use the N. Gilmore Rd. entrance shown above as Bus/Equipment Entrance and proceed to Door #10. Upon arrival all participants (singers, stage crew,instrumentalists, directors and up to four support staff) are asked to remain on the bus. There, your hands will be stamped. The stamped hand will allow access to the homeroom area, the backstage area, and serve as a pass in and out of the building.
Your hosts/hostesses will meet your group upon arrival and escort you to your homeroom. They will be with you throughout the remainder of the day and see that all of your questions about procedures are answered. Students may also help to unload the equipment truck for your school at this time, which will be located either at door 8 (mixed choirs) or 15 (ladies and jr. high).
Equipment. Equipment trucks should use the Equipment Entrance off of Holden Blvd. and proceed to door 8 (largemixed and women's) or door 15 (small mixed and jr. high). There, a parking volunteer will direct you to a place to park and unload. After unloading your truck will want to park in the back parking lot area as shown above. Equipment will be housed in the auxiliary gym (large mixed and women's) or first floor hallways (small mixedand jr. high) on the first floor until it is time to move it to the performance area. Each school will have a designated storage area for their use. All equipment for the school must be maintained within the area provided, so that all schools can easily move their equipment and have a clear traffic pattern. After the announcement of Finals, any groups no treturning must clear their props immediately. Trucks may pull up the loading zone (outside Door 8 or Door 15) to assist your group in loading.
Bus & Equipment Parking. After students have unloaded, busses should proceed on to the West side of the high school where there is bus parking (next to Air Conditioner Units, doors 10-7). A parent volunteer can also point the way! Equipment trucks may also park at this end of the school. Please do not park in the main lot facing Holden Blvd. Bus drivers will receive information for their stay at Fairfield HS. Let your drivers know our Bus Driver Lounge is located in the 3rd floor teacher lounge!
Spectator Parking. Spectators may enter through the Performing Arts Center or Arena doors in the main parking lot facing Holden Blvd. To prevent congestion in the performing group hallways, spectators must enter on the 2nd floor. Tickets will only be sold at the main lobby of the Performing Arts Center and main lobby of the arena. (On second floor!)
General. Each choir will be assigned a homeroom. This is meant to store any personal belongings, instruments, small props, and costumes. It is each director's responsibility to provide an adult chaperone in your homeroom AT ALL TIMES. If our security personnel encounter a homeroom with no adult supervision, all students will be asked to leave and the door will be locked. Homerooms must be checked-out before your adjudication score packet is released.
Food is not permitted to be taken from the cafeteria area. Water bottles will be given to performers after their performance, which are allowed in homerooms only.
Smoking is not permitted anywhere in the building or on the premises of the school.
NO FOOD OR DRINKS IN HOMEROOMS. (Only exception – water bottles).
Classrooms may include a personal computer and other teacher's personal items. Please do not touch maps, overhead screens, or use the computer. Please respect our teachers' and students' belongings.
Extra trash bags will be provided. Please assist in the clean-up and maintenance of the homeroom. Lost and Found items will be brought to the main office (2nd floor).