FCSD nationally recognized as Best Communities for Music Education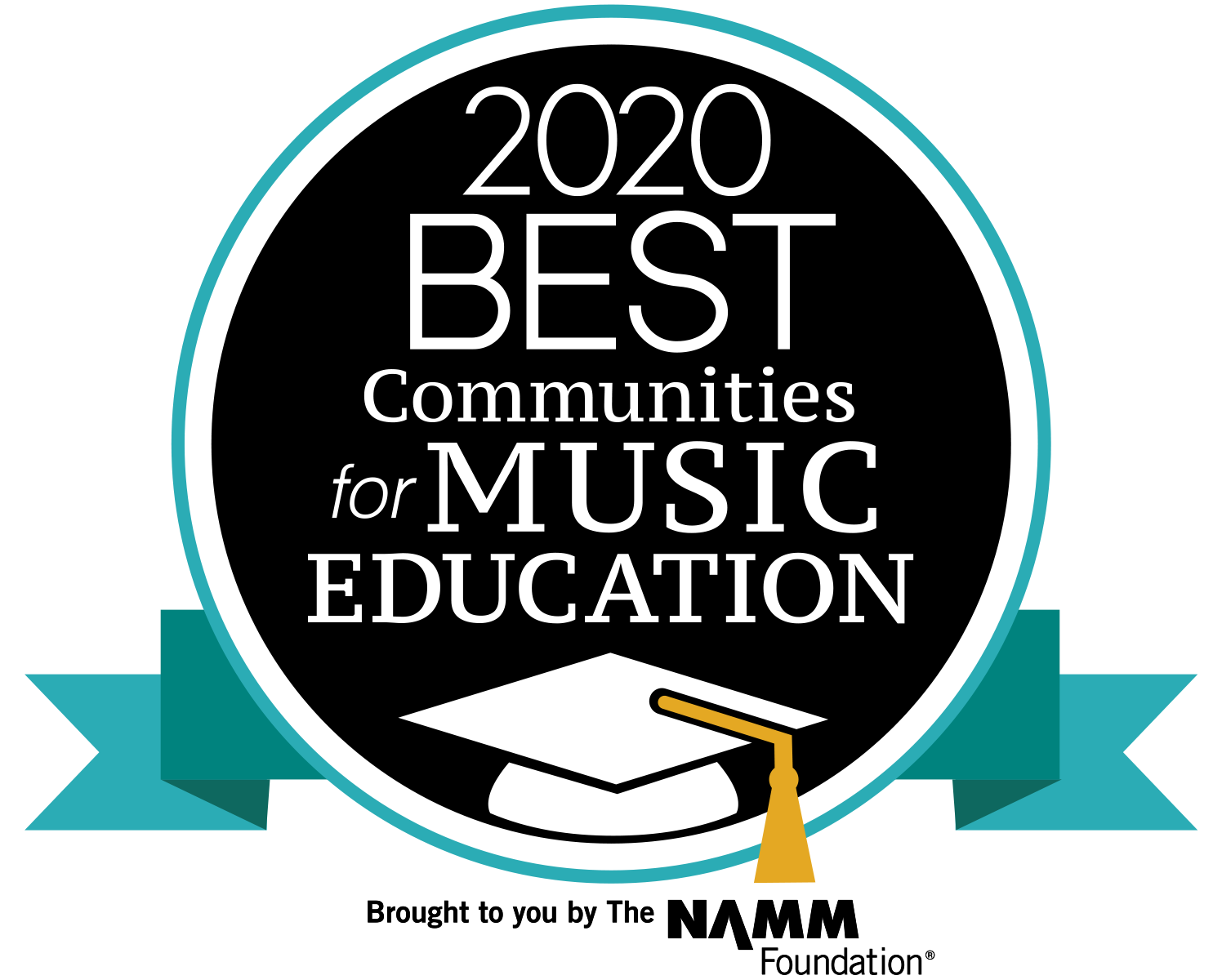 For the second straight year, Fairfield City Schools is nationally recognized for its outstanding commitment to music education. The district is designated as a 2020 Best Communities for Music Education by the National Association of Music Merchants (NAMM).
The honor is awarded to districts that demonstrate outstanding achievement in efforts to provide music access and education to all students. To qualify for the Best Communities designation, Fairfield City Schools answered detailed questions about funding, graduation requirements, music class participation, instruction time, facilities, and support for the music programs.
"The Fairfield City School District is very proud to be the recipient of the Best Communities for Music Education Award for the second consecutive school year. As a school district, we are proud to continue to support and commit to music education opportunities for our students," said Billy Smith, Superintendent of Fairfield City Schools. 
"Receiving this award for the second year in a row shows Fairfield's commitment to music education," said Katie Pennell, Instructional Specialist for Music.
"Being involved in music gives me another means of expressing myself. The statement, 'where words fail, music speaks' is true for me. Also, having been in band all these years in school has given me a second family because of the relationships I've built," said Elizabeth Larson, a senior at Fairfield High School.
Sign up to get connected for 2020 Marching Band/Color Guard season
Hello parents and students interested in Marching Band and Color Guard for the 2020 season. Make sure you are included on the notification list to receive information about this fall's season. Many parents signed up with intent forms, but it's important to click on this link to ensure they have your correct contact information. Don't worry, if you are already in the system for notification, you'll get a response that you've already subscribed.
http://eepurl.com/g1t6D9
There will be a zoom meeting on Friday, May 1 at 7 p.m. for all prospective fall color guard members (This includes rising 8-12 graders). The meeting code is 9802151126. Interested students will need to email [email protected] to receive the password to the meeting.
With uncertainty still about what the fall will hold for school and school-related activities, the band directors want all parents and students to register to be sure to receive the latest information.
Set Your Kroger Community Rewards for Fairfield Tempo Club
You can support the Fairfield Tempo Club every time you shop at Kroger. Make sure you set your Community Rewards to Fairfield Tempo Club. Follow these simple steps:
1. Log into your Kroger.com account
2. Click on your account name in upper right corner and click on "My account"
3. On the left side menu choose "Community Rewards"
4. Search with our name – Fairfield Tempo Club – or number – MX141.
5. Save your selection and each time you use your Kroger Plus Card, a portion will go to the Fairfield Tempo Club

It's that easy. Make the selection one time and you'll continue to support our musicians every time you shop!
Eighth Grade Jazz Ensemble Makes the Most of Special Invitation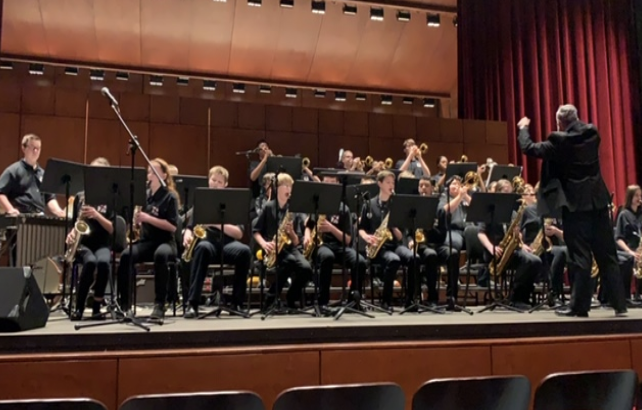 Congratulations to Crossroads Middle School's 8th grade Jazz Ensemble for their participation and performance at the Essentially Ellington Invitational Jazz Festival at the University of Cincinnati's College-Conservatory of Music. They were the only middle school jazz ensemble to receive an invitation to the prestigious national event for high school jazz bands.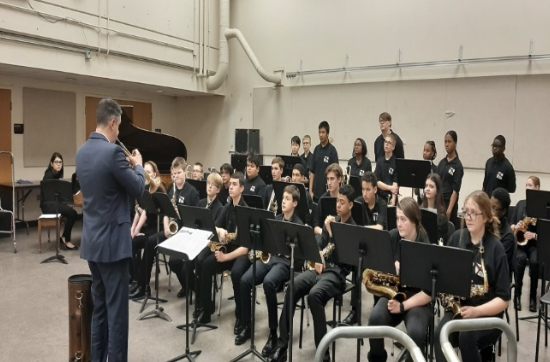 In addition to playing well on the Corbett Auditorium stage, the students learned a tremendous amount from Masterclasses, clinics and concerts. Seven students earned special recognition as "outstanding soloists":
Xander Graman on alto sax
Abram Huff on trombone
Joseph Coxhead on bass guitar
Quinton Jarrett on alto sax
Bryan Thomas on trumpet
Gabe Cook on drums
Nathan Graham on timbales
Fairfield Musicians Earn Honor
of Honor Band
Congratulations to the following Fairfield Freshman School and High School Band members who auditioned and earned positions in the District 13 Honor High School Concert Bands and High School Honor Jazz Ensemble. They will represent our fine programs at special events in January.
Ninth Grade Honor Concert Band-
Madelyn Zoller (flute, Principal Chair), Skylar Howell (fl), Maggie Chen (fl),
Michiko Russell-Wood (ob), Melvin Vasquez (cl), Sarah Alhilu (cl), Allyson
Johnson (cl), McKenna Martin (cl), Morgan Dawson (cl Alternate), Joey Oliva
(trumpet, Principal Chair), Aidan Gorczyk (tpt), Steven Morgan (tpt), Nikolus
Miller (tpt), Lucas Gagen (tpt) and Zachary Fisher (tbn).

High School Symphonic Winds Honor Band –
Alena Scott (flute, Principal Chair), Madison Closson (bsn), Landen Tipton (cl), Rebecca Griffin (cl), Travis Bell (bari sax, Alternate) and Ronald Erskine (tpt).

High School Wind Symphony Honor Band-
Elizabeth Larson (fl), Danielle Reeves (cl), Kayla Miller (cl), Ayden Scheffler (cl), Ella Brewer (cl), Richie Wardlow (bass cl, Principal Chair), Dean Haynes (alto sax, Principal Chair), Jack Cowan (tenor sax, Principal Chair), Jeffrey Thomas (tpt), Evan Tanner (percussion, Principal Chair)

High School Honor Jazz Band-
Caden McCollum, (alto sax), Anthonoy Balfour (alto sax, Alternate), Jack Cowan (tenor sax) and Jefrey Thomas (tpt).

Competition was fierce, our band directors are proud of our
students!
Congratulations also go to the following Fairfield Middle School Band
members who auditioned and earned positions in the District 13
7th Grade Honor Concert Band, 8th Grade Honor Concert Band
and Junior High Honor Jazz Ensemble. They will represent our
fine Middle School Band programs at special events in January.

Seventh Grade Honor Concert Band-
Srijan Gurung (fl), Joey Thibault (cl), Alan Sandoval-Ojeda ( cl Alternate), Alysse Scott (trp), Samuel Williams (horn Principal Chair), Julia Schuster (horn), Claire Lally (horn), Travis Jones (tbn), Lincoln Meisenbach (bar), Milo Troup (tba Principal Chair), Connor Franklin (tba) and Noah Griffin (perc Alternate), Lilly Baker (fl), Katie Minton (cl), Rylan Palmer (cl), Johanna Flores (cl alternate), Aniyah Spaulding (alto), Carson Gagen (alto), Jayden Grant (trp), Carter Letany (trp), Ben Reese (horn), Kyle Weingartner (horn), Elizabeth Druley (horn alternate), Aidan Cooper (tbn), and Timothy Vann Layne (perc).

Eighth Grade Honor Concert Band-
Mary Andorn (fl), Lillie Scott (fl), Helena Borden (ob), Brody Dinan (bassoon), Natalia Delgado (cl), Elena Adams (cl), Ryleigh Whitt (cl), Quinton Jarrett (alto), Alex Aichele (alto Alternate), Kaori Wood bari-sax Principal Chair), Kayla Howard (trp), Aengus Gillespie (trp), Joseph Coxhead (tbn), Ian Gehrlich-Orr (tbn), Carson Wardlow (tbn), Abram Huff (tbn), Brett Miller (bar Principal Chair), Will Stewart (bar), Eddie Vidales (bar) and Rudy Joesting (tba), Payton Paul (fl), Lauren Matheny (oboe), Jaynee Fields (bsn), Kyla Tillman (cl), Will Stone (cl), Shakilah Graham (cl alternate), Tyler Warner (alto), Lucas Setter (trp), Renee Blazer (trp), Roman Kobman (tbn), and Sean Tanner (bar alternate).

Junior High Honor Jazz Ensemble-
Quinton Jarrett (alto Principal Chair), Ryleigh Whitt (alto Alternate), Kayla
Howard (trp), Eddie Vidales (trp), Abram Huff (tbn Principal Chair), Carson
Wardlow (tbn), Joseph Coxhead (tbn), Joseph Coxhead (bass Alternate) and
Natalia Delgado (pno Alternate), Tyler Warner (alto), Mina Thompson (alto), Kyla Tillman (tenor), Elizabeth Pirtle-Lykins (tenor alternate), Roman Kobman (tbn), Will Stone (tbn alternate), and Lucas Setter (bass).

Competition was fierce, over 900 students from 4 counties competed for the 3 middle school groups. Mr. Knueven, Mrs. Stover, Mr. Tumbleson and Ms. Wessel are proud of all the students who auditioned.
Show Choir First Look Tickets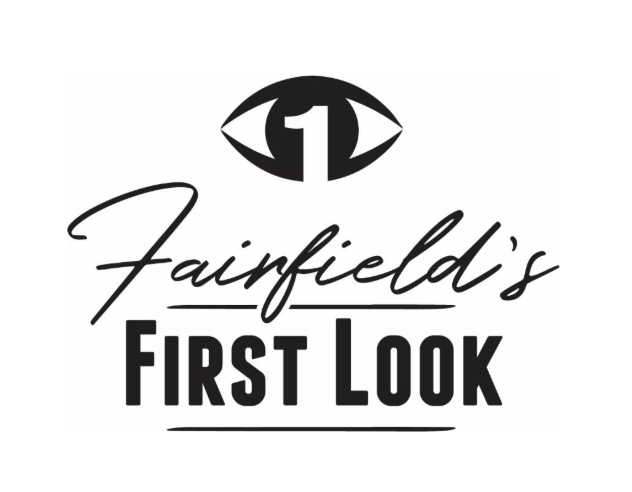 Tickets will go on sale November 29, 2019 at 10:00am EST. At this time, those who are selecting the dinner AND show tickets will be able to purchase their tickets with the 'Early Bird' pricing. Show ONLY tickets will not go on sale until November 29, 2019 at 6:00pm EST.
If you were a Diamond Level Guest at the Fairfield Fall Gala, you have until November 22, 2019 to purchase your pre-sale tickets. To purchase, contact Mr. Mercer at

[email protected]

.
'Early Bird' Ticket Pricing: Dinner and Show Ticket – $15, Show ONLY Ticket – $8. The 'Early Bird' pricing will remain in effect until December 31, 2019 at 11:59p EST. Tickets will go to regular pricing on January 1, 2020 at 12:00a EST (Dinner and Show Ticket – $17, Show ONLY Ticket – $10.)
If purchasing the dinner and show option, the dinner will start at 5:30pm and the show will begin at 7:00pm. This option is only available Friday and Saturday nights. The dinner is an Italian dinner that will be served by our students – we would love for you to be a part of this!
IMPORTANT – READ THIS! When purchasing tickets, please be aware that if you would like to choose the exact seats you want, you MUST use a laptop or desktop computer. When purchasing the tickets from a phone, tablet, etc., the system will choose the best available seats for you. To choose your exact seats, you must select 'Choose Seats'. If you select a number of tickets you want from a drop list, you will not get to choose your seats.
Tickets can be purchased at https://fairfieldchoralmusic.ticketleap.com/. It is important that you enter your correct information including your primary e-mail as that is where the tickets will be e-mailed. You will need to click the Download button in your e-mail receipt to access your tickets. You can either print the tickets out and bring them in or show the downloaded tickets on your smart device.
Anyone requesting ADA seating in their order or with any other ticketing questions should contact Mark Mercer at

[email protected]

.
Fairfield Students Excel in Honor Orchestra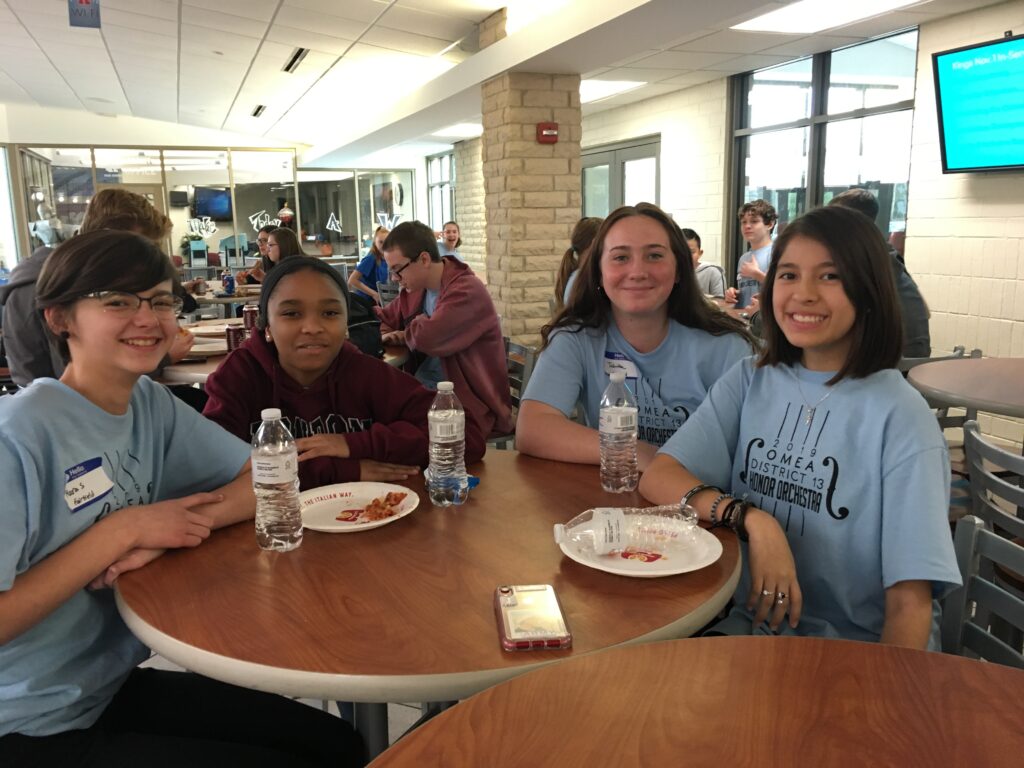 Several Fairfield Orchestra students participated in an Honors Orchestra sponsored by the Ohio Music Educators Association (OMEA). The District 13 Middle School orchestra was comprised of 45 – 7th, 8th and 9th grade students from seven school districts! Students rehearsed Nov. 1-2 and performed their concert at the conclusion of their practices.
Crossroads students included Samiyah Jackson, Taylor Whitaker, Ayden Howard, Annie Nguyen, Dylan Falcon, Darianne Goins and Sayury Perez. Creekside students included Mara Seppala, McKenzie Richardson, Tabitha Sabatelli and Lydia Canales.
The students did a great job representing our schools and our Music Department. Nice job!
Raffle Cash Giveaway in November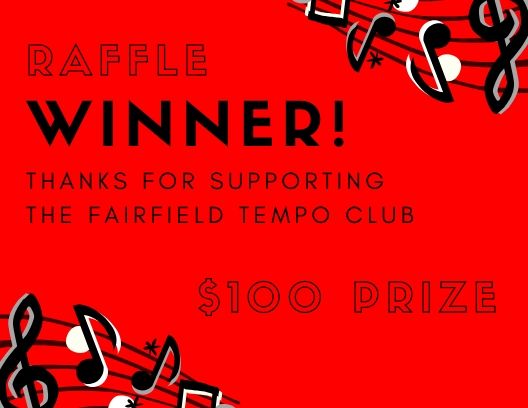 You've already done the giving. Now, it's time to receive in November. The Tempo Club raffle sales are complete. Each day in November, we will draw one winner for a daily cash giveaway of $100 or $500. Follow and like us on Facebook/Twitter @FFTempoClub and @FairfieldTempoClub on Instagram to see our daily winner. In addition to the raffle ticket buyer, the ticket seller also gets some cash, so our musicians in grades 6-12 should follow closely. We'll also directly contact the winner to get them their prize. Thanks to all who purchased a raffle ticket and good luck!
Fairfield Recognized for its Music Education
The Fairfield School District earned a designation in 2019 as "Best Communities for Music Education" by the National Association of Music Merchants. NAMM recognizes and celebrates school districts and schools for their support and commitment to music education and efforts to assure access to music for all students as part of a well-rounded education.
The survey was developed in partnership with the Music Research Institue at the University of Kansas. Survey questions are aligned with goals for equity and access to music education for all students, and also with national standards for music education. This survey seeks to support communities everywhere that are working to assure music education opportunities for all students.
DCI Show Benefits Fairfield Marching Band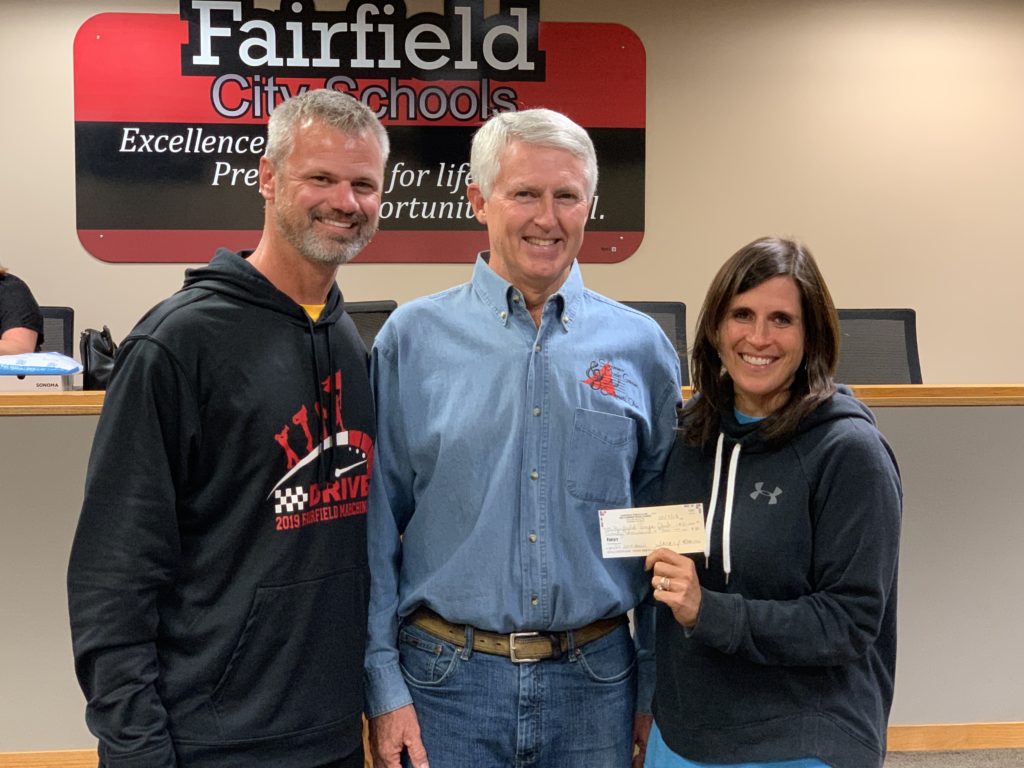 The Drum Corps International (DCI) Show was another success in 2019 and Fairfield's Marching Band benefits from all the work and effort that goes into hosting the local show. On Oct. 7, Bruce Brown, Contest Director for the local DCI Show, presented a check to Marching Band Directors Darren Ling and Jill Wilhelm for $20,000!
The work starts now for DCI 2020 — it will be the 25th anniversary of the locally hosted competition. Fairfield Marching Band needs to secure at least 120 volunteers before the end of the 2019 Marching Band season to ensure another big check in 2020!
The date is not set yet, but it will likely take place in June. Local organizers including Bruce and Sara Brown hope to secure big name bands to compete.